I've wanted saddle bags on my bike for a while now, but the professional ones they make for my type of bike are really crappy.
Not only do they look like I'm on vacation, but they hardly seem like something I would leave on there full time.  who knows when you need a little bit of extra space?
When my dad came into town we went to skycraft down the street. I wasn't expecting something I could use there, but I should have. Finding that part you can't find anywhere else is what that store is all about.
What I ended up with is two nylon ammo cases with plastic inserts.  I cut the handles and drilled them to the plastic under the seat and whola heavy duty, water proof, light weight saddlebags!
These bags hang low and are angled in a way I really like.  There's no way commercial bags would do that.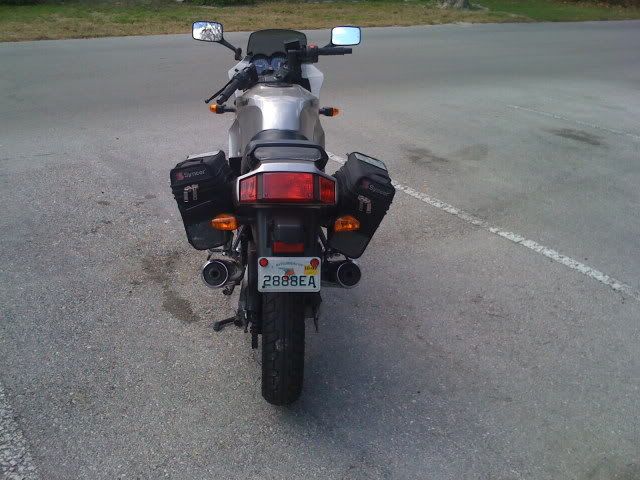 In one I have cold weather and rain gear. The other one can be used for whatever is needed at the moment, like my portable hard drive for the pop rocks project or ice cold soda for the end of the trip. 
They can be locked too
Of course this won't help me if someone decides to cut the straps and take the whole case, but it is peace of mind to lock it in places where people may be curious about what's inside but vandalism is unlikely.
The inserts for each bag were only 5 bucks each, so I'm going to get a few more and make modular kits I can swap out as the situation calls for it.
I've only had them on there for a few days, but I'm taking them for granted already. Having storage space is a huge improvement, I can't believe it's something I had to mod.