With 48 days to AFO and about 62 days left till dragon, I've decided I'm going to need a little help if I am to reach my new goals.
Luckily, Lifestyle fitness is opening a new store right next to the house. I'm talking one block from home; I can jog to my workout!
Normally, I wouldn't be able to afford a gym membership, but they're still building the two-story state of the art setup in an old theater so I got a good deal from them.
Not only do I get to use setup they have in the smaller temporary storefront next to the new gym they're building, I also get to use any other lifestyle gym in town, AND I get free tanning too, all at a discount rate.
Today was my first of three visits with a personal trainer, and it was a lot of measurement and talk, a little disappointing.
On the upside I finally got my BMI measured.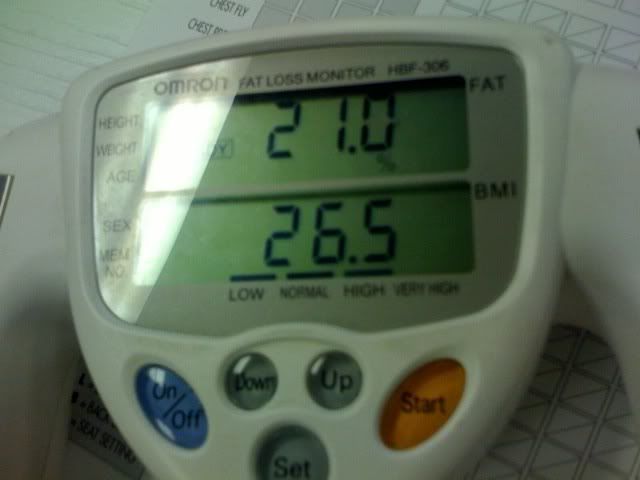 They tell me that's just a little short of "perfectly healthy" I was surprised.
The trainer was a nice guy but he didn't size me up very well. He didn't seem to get that my goals are reachable, he looked at me and told me what I wanted to achieve might not be doable by Labor Day. Even though I told him that I had achieved these goals in less time in February, I was just looking for more mass this time.
I ended up showing him a pic from mega and he still was doubtful. He must have figured I wasn't serous about the diet and workout every other day. I don't blame him, I'm sure people do that all the time, but I digress…
I headed down to Tampa after that and because I didn't actually work out at the gym today I ran a course in my parents neighborhood.
4.5 miles in 50 minutes, not bad.