Today marks 1 year that I have kept an active blog!
Hurray for me!
When I decided to start keeping a journal, I wanted to try to make a post every day, and I came pretty close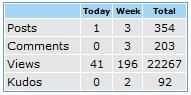 This post makes it 355 so I am 10 short of that goal. That's pretty much the 10 days I was at dragoncon and AFO. This year I have a laptop and an iphone with wireless access so I'm hoping to meet a post a day.
Another interesting thing about my yearly stats is that I've had over 22,000 page views this year. That's pretty good for a personal blog from what I understand.
so here's to a good first year, and to many more to come!
Who knows, maybe in 20 years these ramblings will be usefull.