I went to class for my art final today.
The goal of the final was to make an ad/packaging campaign on a product. The difficult thing though was that we had to do everything by hand – no digital design. since it was on my mind already, I decided to do something for Dr Steel.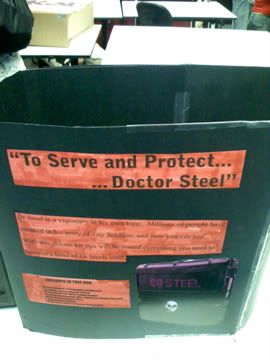 I'll be the first to say that it could have been done better. This project has an amateur feel to it, but like I said I couldn't use any of my tools so sloppy is going to be a result. I think the actual idea is solid though, I like the way the packaging comes off and you have a cool box for propaganda without all the BS has to be on a store packaging, the little window is cool too. My favorite part of this prototype is that you can stand on it like a soap box when your out spreading propaganda. When I get the chance I'll pull the paint off and put some nice stickers on there, I'll have that done before megacon.
Today was also "free pie day" at school. I was told it was a long tradition… well guess what? they were all out of pie when I got there. I know there must be a portal joke in that, but I can't think of what it is.
It's funny, when I wasn't told about the pie I didn't want any, in fact I would have said no thank you if you offered… but when I was told there was pie and I wasn't allowed to have any…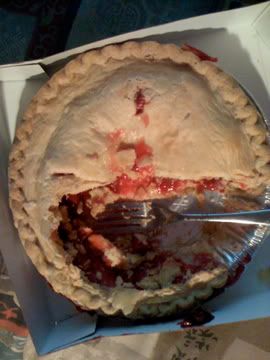 yes, I ate an entire half, and no I don't want to hear any guff about it.
all of these pictures were taken with my new iPhone btw. I know a 2 megapixle camera is not a good reason to get a high end phone, but it was the main one for me. the whole process of picture blogging just got about 10 times eaiser, so be prepared to see more of it from me.